Yes, this is my second topic. No, I am not ashamed.
In April 2006, JR (she is referred to as this in newspapers because she is a minor) and her boyfriend, Jeremy Steinke, murdered her mother, father, and 8 year old brother. We still do not exactly know who killed her brother, but I firmly believe she was the one who slit his throat. JR was interested in the goth community. Jeremy Steinke was a self described goth who also believed he was a werewolf. JR lied to him about her age (she was 12 and he was like 22). It's a very long case but it is so interesting. This is the case that got me into true crime.
JR before she "turned" goth.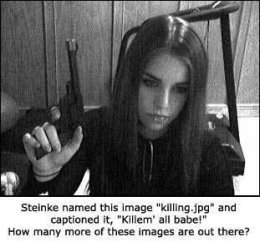 JR after she "turned" goth.
Her boyfriend, Jeremy Steinke.
I just wanna contribute to this forum my guys.



Posts

: 12


Join date

: 2017-06-10


Age

: 19


Location

: New York



This is one of the cases that always interested me cuz I have to wonder what exactly was going through her mind when she did it? She kinda reminded me of me when I was that age (cringe) and I think it's sad that kids get homicidal thoughts this young. I wish there we knew more about young killers and how to prevent it.



Posts

: 12


Join date

: 2017-06-10


Age

: 19



Oh gosh I remember reading about this case. I was also kinda like her *cRINGE* with the whole goth phase and all, and I also dated a man way older than me during that time (two decades older CRINGE*

I kinda feel bad for her to be honest. I mean I understand what it's like to want to harm yourself or your family (I struggled with this a lot when I was like 14) but to actually murder your family at the age of 12 with your old ass boyfriend is just beyond me.
Co-Admin





Posts

: 48


Join date

: 2017-06-10


Age

: 18


Location

: Cambridge, Massachusetts



Similar topics
---
Permissions in this forum:
You
cannot
reply to topics in this forum